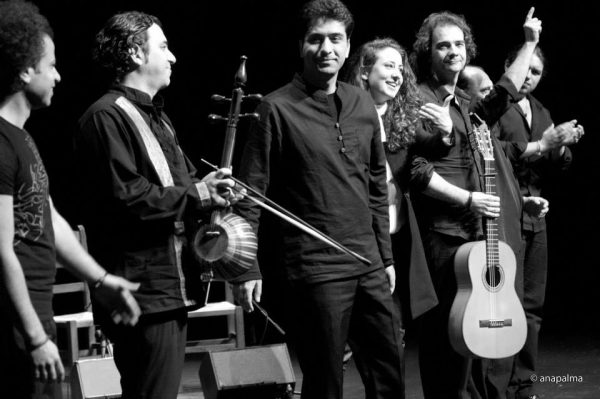 An Iranian soloist will be in a tour of US states for performing his potpourri of Iranian classical music and Spanish flamenco.
Qasida, the Dutch Flamenco Biennial's production featuring singer Rosario la Tremendita & Mohammad Motamedi will perform 10 of March 2016 in Bozar in Brussel, and will tour the United States.
Qasida is an extraordinary musical encounter between Mohammad Motamedi and and the young Sevillian cantaora Rosario Latremendita
Mohammad Motamedi will give concerts in some US metropolitan cities his 'Ode' ('qasideh' in Persian). The mixture of Iranian music and Spanish flamenco makes the best use of both musical forms and their capabilities. Along with Motamedi, who is composer of Iranian part of the 'Ode,' Sina Jahanabadi and Habib Meftah also will participate as Iranian instrument players.
concerts will be reportedly hosted by New York's Carnegie Hall, Cleveland's Museum of Art in Ohio, Lisner Auditorium in in Washington DC, and Berkley's Art House Gallery and Cultural Center.
The 'Ode' has been performed in Jeres Flamenco Festival (southern Spain), Seville Flamenco Festival, Morgenland Festival (Osnabrück, Germany), Amsterdam Flamenco Festival in Raza Theatre (Utrecht, the Netherlands), Madrid Flamenco Festival, Rome Flamenco Festival, Amsterdam's Great Music Hall and Austrian Krems Festival.
The Flamenco Biënale presents Qasida:
10 march 2016 | Bozar Brussel | order tickets
16 march 2016 | Cleveland Museum of Arts, Cleveland OH | order tickets
18 march 2016 | Zankel Hall-Carnegie Hall, New York | order tickets
19 march 2016 | Lisner Auditorium, Washington DC | order tickets
20 march 2016 | Berklee Performance Center, Boston MA | order tickets
More information about Rosario 'La Tremendita'
Contact: Ernestina van de Noort
www.flamencobiennale.nl info@flamencobiennale.nl
+31 6 21275088